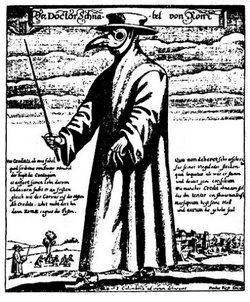 The laws of probability say that anything will happen that can - and that means something that has happened numerous times throughout history is even more likely to occur again.
Some of the more devastating events in recent history are pandemics but they actually get very little attention until there is fear a new one is already happening, like with Ebola in the United States in 2014 or Legionnaires' Disease in 1976.
But where Ebola was really happening, in West Africa, and taxing an already weak public health infrastructure, we can find a model for what might happen in a truly baffling pandemic, like with the Bubonic Plague in the 14th century, which wiped out almost 25 percent of Europe, and The Influenza Pandemic which swept across the United States in 1918 and killed more people than The Great War.
Thinking about those incidents leads to bigger questions, like are we better equipped to handle such a pandemic today?
To raise awareness about preparing for the next pandemic before it arrives, the American Council on Science and Health and National Geographic are teaming up to get policy makers mobilized. On November 1st, they are debuting the series"Breakthrough: Fighting Pandemics" at 9 pm ET on the National Geographic Channel. To get a head start, you can take a look at the clip below:
Historical records show that another pandemic will occur, but no one knows when. How do we create a mind shift among world leaders and people in general to start planning for the next one now?