1. Now that the Science March is over, participants no longer have to pretend it wasn't about partisan politics. Up until Lenin's birthday...I mean Earth Day...I mean Saturday...there was at least a pretense that this was about making sure science remains a strategic resource. (1) Yes, the motivation even then was sketchy - the march had been planned to lament that science had declined before a new president even knew where the bathrooms were in the White House - but science advocates had been insisting this was not anti-Republican.
News outlets gleefully disagreed. While the majority of people attending had an earnest interest in science, they were also duped into believing science was suddenly in peril. Those non-partisan people did not get news coverage. What got coverage was instead things like this, what Guardian called "the best pictures" from the event: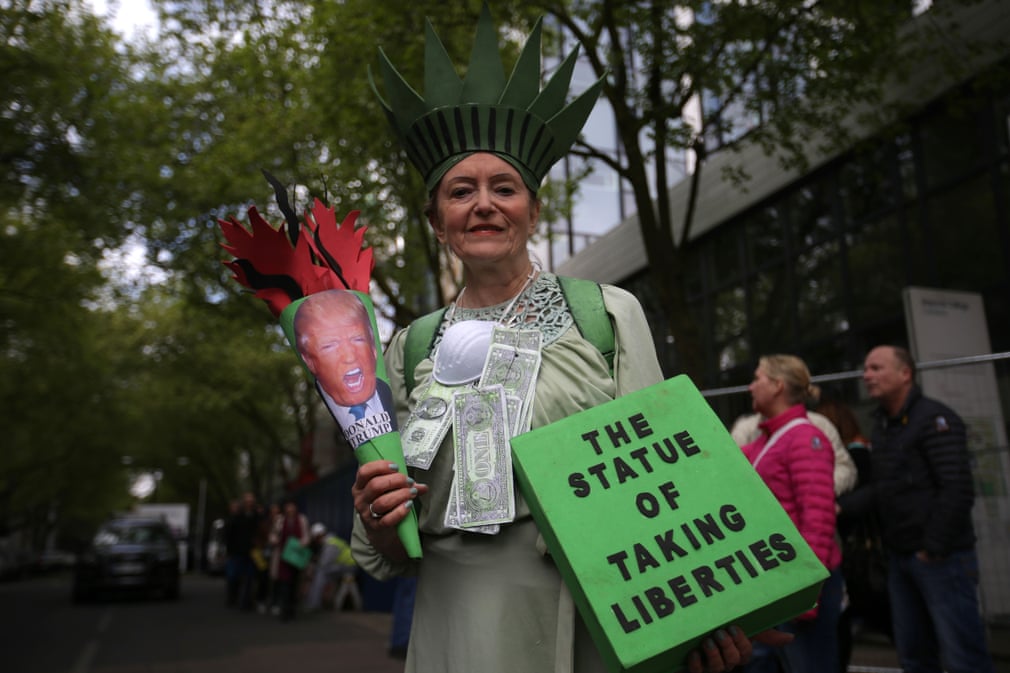 Only one of their photos was not a partisan political attack. New York Times had similar spin. 
What didn't show up in newspaper outlets. That some places, like Memphis, had to have two marches, because activists hijacked the event and non-partisan scientists didn't like it. Or experts taking on science marchers who were selling "green alternatives" to vaccines. Or pictures of all the anti-agricultural science, anti-energy science, anti-medical science scaremongering.
Not everyone was falling for the partisan framing. At Reason, Ron Bailey wondered why there had been petitions and protests about science during the Bush administration, none during the Obama years despite numerous instances of anti-science beliefs making their way into policy, and then protests and petitions again now that another Republican is in office.
Breitbart was more blunt, noting in the Los Angeles march that the science was one celebrity kind, while the real draw was billionaire progressive activist Tom Steyer.
Other groups were also interested in deviating from 'if you are with science, you have to march with Greenpeace' narratives. Al Jazeera had our Dr. Alex Berezow on their show to discuss the issue. You can watch the segment here.
For perspective on why we didn't participate in what was clearly a political event, even though we do have to make science and healthy policy recommendations, please see Make Science And Health In America Great Again.
2. In more positive science and health outreach, the American Council on Science and Health was at the Yale-West Point Civ-Mil Service Symposium to discuss veterans health policy:
Left: General Gordon Sullivan, 32nd Chief of Staff of the U.S. Army, who also served as Acting Secretary of the Army with American Council on Science and Health Director of Medicine Dr. Jamie Wells. Right: General Loree Sutton, M.D., founding director of the Defense Centers of Excellence for Psychological Health and Traumatic Brain Injury, and Dr. Wells.
3. We were also in attendance at the Juvenile Diabetes Research Foundation awards ceremony to honor Dr. John Tedeschi. Among his many notable accomplishments, Dr. Tedeschi can also cite his being the pediatrician to our pediatrician and our Medical Director, Dr. Jamie Wells.
4. Other places the public found us last week:
Quality Assurance magazine, discussing our articles on the gluten-free craze. 
ScaryMommy.com discussing the ongoing vaccine fearmongering. 
AppsForPCDaily.com on the science march.
Normangee Star on the science march.
NOTE:
(1) The imagery sure looked spookily like any other Earth Day celebration since 1970.
A science march on an environmental holiday, Earth Day, which is always held on Lenin's birthday? The symbolism must be coincidence. There's no group that cares less about science than one of the key science march sponsors, Greenpeace.