Adapted from APCO Market Impact Assessment Report
Australian Federal Environment Minister Josh Frydenberg met recently with his state and territory counterparts. Top of their agenda? The recycling crisis precipitated by the China "ban."
States and councils around the country have been struggling since the imposition of import restrictions that exclude 99% of the recyclables that Australia previously sold to China.
Hopes are high that the federal government will step in and take a clear role. Proposed solutions include investing in onshore processing facilities and local markets, incentives or mandates to use recycled content, and grants and rebates for innovative approaches that go beyond recycling to designing for prevention and reuse.
But what is the ban and why is it such an issue?
What is the China 'ban'?
The "ban" is actually a set of import restrictions imposed by China under its Blue Sky/National Sword program. This follows its previous Green Fence program, introduced in 2011, which progressively tightened inspection efforts to reduce the amount of contaminated materials entering the country.
National Sword takes this a step further by restricting the importation of 24 streams of recyclable material. It does this by setting stringent "maximum contamination thresholds" and limiting the number of import permits provided to Chinese businesses.
Of key importance to Australia are the restrictions on paper and plastics, which now have contamination thresholds of just 0.5%. While not a ban in theory, this is virtually a ban in practice, because it is currently unachievable when processing household wastes like plastic.
How much of Australia's recycling is affected?
Recent estimates commissioned by the federal government suggest that of all recycling collected from households, business and industry in 2017, Australia exported 3.5% to China (some 1,248 megatons).
However, the proportion is much higher for two key streams from our household curbside recycling: 29% (920 Mt) of all paper and 36% (125 Mt) of all plastics collected were exported to China in 2017. This represents around 65% of the export market for each. The contamination rate of Australia's curbside recycling averages between 6-10% and even after sorting at a recycling facility is generally well above China's 0.5% acceptable threshold.
Australia has limited local markets for household recyclables like paper, plastics and glass, so we rely heavily on overseas markets like China to buy and reprocess the waste. Losing the market for a third of our paper and plastics – as have many other industrialized countries – has sent shockwaves through the global recycling market. Oversupply has caused the average price of mixed paper scrap to fall from around AU$124 per ton to A$0 per ton (yes, zero!). Scrap mixed plastics has fallen from around A$325 per tonne to A$75 per ton.
For many recycling companies, this means that the money they can make from kerbside recycling will now be less than the cost of providing the service.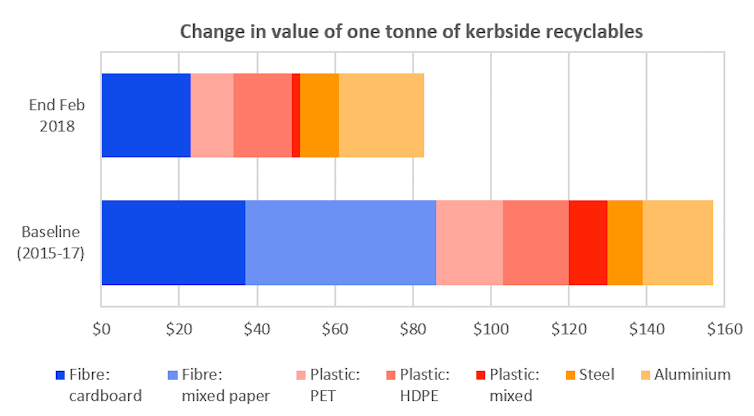 Adapted from APCO Market Impact Assessment Report
Short-term solutions
Despite this reduced market, over the past 12 months traders have been able to sell scrap paper and plastics to other countries in Asia. This is a stopgap solution, as these countries are likely to reach their maximum capacity soon.
Other recycling businesses are storing these materials in the hope that a better option becomes available soon; The Age has reported some 200 "dangerous" stockpiles in Victoria. New South Wales has temporarily relaxed stockpile limits to allow greater short-term storage.
Major recycling company Visy has invoked force majeure to stop accepting recycling from the collection contractor for ten regional Victorian councils, while others councils face increased fees. In response, the Victorian state government unveiled a A$13 million rescue package to help councils meet increased costs until June, when they can increase rates (which are expected to increase by 4.5%).
Passing costs onto residents isn't always an option, as in NSW where rates are capped. To prevent a number of councils from abandoning curbside recycling altogether (as temporarily happened in Ipswich), the NSW government has announced A$47 million of funding to help industry and councils. However, this is money diverted from funds already aimed at better managing waste throughout the state.
In South Australia, some recycling is seemingly still being sent to China despite the ban because of the high quality of recycling in that state. However, this is not a realistic option for all, and industry associations have called for a A$7 million rescue package. The SA government is waiting on a report from a working group before committing to such a package, but has announced A$300,000 in grant funding for the development of secondary reprocessing infrastructure.
The Western Australian government has created a task force to look at solutions but it has so far not returned any findings.
So what are our options?
The immediate responses from state governments have focused on short-term solutions. Our major medium- to long-term options fall under three categories: increasing the quality of recycling to enable continued export; investing in onshore recycling markets and facilities; and reducing the need for recycling altogether.
Ahead of the Friday meeting of state environment ministers, there's been a call for "product stewardship": making companies responsible for the ultimate fate of their products, to create an incentive to ensure packaging is recyclable.
The Waste Management Association of Australia has been lobbying for a A$150 million action plan to invest in infrastructure and improvements in recycling quality, and for governments to buy recycled products. South Australian data suggest that 25,000 jobs could be created if we process recycling onshore.
Let's hope the meeting produces a commitment from all ministers to long-term recycling and reuse solutions. What we don't want to see is prioritized investment in waste-to-energy approaches to kerbside recyclables, as this has the least environmental benefit compared to avoidance, reuse and recycling. Even as a short-term solution any investment could lock out better longer-term solutions, because once these facilities are built they need to be fed.
However, for a truly circular economy, we also need governments to take this opportunity to go beyond recycling and invest in waste reduction and reuse. Grant programs and incentives for manufacturers to design for disassembly and reuse are a great idea, as is support for businesses moving to reusable products and systems, like refillable bottles and returnable food containers.
Regardless of what does or doesn't happen at today's meeting, the key message for the public is to keep on recycling, and to recycle carefully.
By Jenni Downes, Research Consultant, Institute for Sustainable Futures, University of Technology Sydney
and Elsa Dominish, Senior Research Consultant, Institute for Sustainable Futures, University of Technology Sydney
This article was originally published on The Conversation. Read the original article.